14 or 21~days
Quality Escorted Experiential Tours
From 20 October to 03 or 10 November, 2007
<![if !vml]><![endif]>

« Caer Sidi »

The Island of Crystal

<![if !vml]><![endif]>

Comparative Research in Himalayan & Keltic Traditional Healing

14 or 21 Days Experiential Study&Tour, including 3 Days Introduction Seminar,
organized in Nice, Verdon Powerplaces and the Aude Pyrenees, South-of-France

<![if !vml]><![endif]>


Seminar October (Nice): 26-28, 2007

14 or 21-days
Quality Escorted Experiential Tours

Escalibur

<![if !vml]><![endif]> Caer Sidi Seminar & Retreat

B. Raven Lee (PhD) and William R LEON (PhD Cairn Consortium) invite you to the CAIRN Tsa-rLung Trul-Khor Introduction Seminar and its experiential exploration of " Caer Sidi, The Island of Crystal ", being organized in the wonderful city of Nice (Riviera, Cote d' Azur) and the Verdon sacred Keltic, Cathares and Templars Mandala situated some 100 km north of Cannes, in the South-of-France.

Drawing equally from both the Keltic and Tibetan traditional healing practices, as well as from current modern scientific research in Quantum Psychology, CAIRN Tsa-rLung (Energo-therapy and Divination) Introduction Seminar & Retreat is at the cutting edge of the 21st century energy medicine, energy strategic analysis and coaching professional praxis. Being of great interest to doctors, healers, psychologists, therapists, anthropologists and Dharma spiritual practitioners, the CAIRN Tsa-rLung Energo-therapy and Divination Practices includes the comparative study of the physical, conceptual, hermeneutic and energetic approaches to the embodiment of Archetypes within their traditional paradigm healing practices. This remarkable Experiential Seminar week-end and Retreat will bring together exciting results from current Quantum Psychology professional Energy Medicine research and experience, as well as provide you with more practical knowledge to use in your own healing, meditation and counselling professional practice.

The Seminar will focus first on the synthesis between Tsa-rLung Trul-Khor and Keltic Archetypal Healing practices, including references to the Five Elements Energy and the Body of Light teachings (re: Tenzin Wangyal Rimpoche, 2002-07), as well as to the previous Tibetan Applied Psychology/Psychotherapy curriculum given by late Tarab Tulku Rimpoche (Tarab Ladrang, Transpersonal), always bearing in mind the hermeneutic approach needed for a synthesis of Tibetan and Keltic archetypal embodiment (Choo), divination or healing praxis.

This Introduction Seminar is open to anyone — no prior Tsa-rLung Trul-Khor meditation or Choo experience is needed — but knowledge in Yoga, Keltic Healing, Energotherapy, Pranayama, Reiki, Taichi and/or Qiqong praxis will definitely be most facilitating factors, for Tsa-rLung and Trul Khor subtle energy perception and synthesis.


The Tsa Lung and Trul Khor Body of Light concepts, per se, may roughly be translated from the Tibetan scriptures as "the magical movements, channels, and vital breath", which were upto recently kept as secret Tibetan practices. It is a rather distinctive Tibetan Dharma practice, which focuses upon energy and archetypal embodiment and which incorporates breath, awareness, visualization and physical movement. It is a powerful practice that can clear long-held blocks in the practitioner's body, energy, and mind. Tsa Lung also supports the spontaneous arising of the Body of Light awareness (Tigle) during both meditation and/or in everyday life praxis.



The following Five days Caer Sidi : Itinerary Practices & Retreat is open to anyone who has a clear understanding of the archetypal and energy healing process being performed during the foreseen energy and meditation/prayers experience.





Please note: Recommended reading: Tenzin Wangyal Rinpoche, Healing With Form, Energy, and Light. Bring a cotton yoga mat if you have one. Tarab Tulku Rimpoche, Transpersonal Tibetan Applied Psychology.

Seminar Only Registration Fees : in principle the tuition fees are : 250 Euros, for the French, Italian, Belgian, UK and other European envisioned participants of neighbouring countries to the Seminar. Kindly note however that discount fees of : 200 and 150 Euros only, are of course negotiable for researchers, students and other CAIRN Consortium Members, on a case basis and upon request. For the USA Group participants, the Seminar Fees are comprised in the Tour. Please contact RWL for fees, accommodations, transport/commuter information and plan.


Seminar Arrival/Departure Information: Plan to arrive for check-in on Friday 26 October between 4:00 p.m. and 6:00 p.m. for the first introduction session will be sent to registered participants . Workshop begins at 6:30 p.m. on Friday evening, and will be continued on Saturday 27 and Sunday 28 October within a flexible planning of two or three sessions per day, as per participants. The Verdon Mandala Caer Sidi 5 Days Tour&Study will start on the following Monday morning. Lodging for Seminar participants begins Friday night, but individual arrangements can of course be made, upon request. Meals are not included in the Seminar Fees, due to the wide range of choices and options which may be chosen. Workshop ends Sunday at 5:00 p.m. You must be checked out of your room by 10:00 a.m. on Monday. Departure for the Verdon Mandala after breakfast. Please note: Workshop schedules are flexible and subject to change, as per group request and other appropriate logistic modalities; all further information will be given in your confirmation letter.


For additional information, please write to CAIRN Consortium CEO: William Rene LEON (PhD) at:
<leon@sped.ucl.ac.be> and <william_rene@hotmail.com>

We reserve the right to cancel or reschedule any program at any time. Our workshops are educational experiences, and are not to be mistaken for long-term therapy or cure. Some people may find some programs to be too psychologically or physically challenging. We recommend that in case of any doubt, a physician or trusted counsellor be consulted.




<![if !vml]><![endif]>

Nyima Dzong Stupa (Chateau Soleil)

William R. Leon
Cairn Webmaster©2001-07

<![if !vml]><![endif]> Caer Sidi, Tsa-rLung Seven Seals Retreat

Cairn Strategic Tsa-rLung Coaching Retreat is a personalized psycho-energy-body development program, offered one-on-one by appointment only. It is the only comparative Tibetan Shamanic Vajrayana and Keltic Christendom (Body of Light) Traditional Healing Research & Development synthesis, based on 35 years professional experiential in both Dharma and Keltic Powerplaces experiential synthesis practices, to be found today!

CAIRN Strategic Tsa-rLung Coaching is dedicated to transforming the practice of community leadership and to helping create cultures of engagement for high performance/high fulfilment organizations that bring out the best in people in terms of Personal or Organizational Renewal and Leadership, this by using the precious legacy of the Tibetan Tsa-rLung Body of Light Practices and Vajrayana Philosophy, as well as that of the Grail Lore.

CAIRN follows the inspiring and innovative drive, launched in the early 1980s by late Tarab Tulku Rinpoche, Trungpa Rinpoche, Dudjom Rimpoche, Kyentse Rinpoche, as well as nowadays by Tenzin Wangyal, Lopon Tenzin Namdak and others, in their efforts towards a transparent and scientific approach to the concepts and practices of the "Body of Light", as well as seek more intimate embodiment with other similar Sacred Healing Arts living traditions.

The Caer Sidi , Tsa-rLung Seven Seals Retreat will be of a 4-5 days duration Quest on the traces of the Keltic Healing tradition, Mary Magdalene, Wolfram Von Eschenbach Lore and South-France Templars historical Grail sacred sites in and around the Verdon, including the wide pilgrimage area of Ste Beaume, Aix-en-Provence, Moustiers Ste Marie and other Black Madonna altars.

B. Raven LEE (PhD)

Ani Sherab Sangmo

Namgyal rimpoche (Dudjom)

<![if !vml]><![endif]> Ancient Tibetan Healing Practices and Psycho~Energotherapy

Dr. B. Raven Lee is a long-time student of Bon and Nyingmapa (Body of Light) Healing practices. A Transpersonal-Jungian psychotherapist, meditation teacher and a diplomate clinical hypnotherapist, she has been integrating Buddhist practices, dream work and shamanic healing with western quantum psychology and interpersonal neurobiology in her private practice in Pasadena, California, USA. She has studied with shamans in Mexico and is a Reiki Master and Teacher. Dr. B. Raven Lee also utilizes alternative healing modalities and energotherapy.

A new wave of scientific research is discovering intelligence in our cells, consciousness in the universe and changes in the structure of the brain, as we train our mind. The revolutionary theories are supporting what Tibetan Buddhism and Bon, the indigenous religion of Tibet, have been teaching for thousand of years. According to this esoteric Bon tradition, all phenomena manifest at three levels : the physical, the energetic and the mind. The ancient system utilizes mental visualisation, sound and breath to penetrate the essential chakras and channels within the body, as well as the specific pathways and movements of energy that promote healing. As the world is experiencing profound and rapid changes, the discoveries brought about through the interface of science and spirituality have produced new ways for people to navigate the chaos and to harmonize their life with higher levels of consciousness.

This workshop will integrate new science, Western psychology and healing practices from Tibetan Buddhism, to create a map of the psyche and the body, as a blueprint to understanding pathways of transformation. Each day, participants will be introduced to deeper levels of consciousness, as they learn the following:

- The Western and Tibetan views of Mind,

- The nature of emotions and how they shape us,

- Identify the sources of dysfunctional patterns,

- Learning integrative techniques, such as Visualization, Breathing Exercises, Energy Work and Meditation to balance those patterns.

The " Tibetan Ancient Healing Practices and Quantum Psychology Introduction Seminar " will be organized from Friday October 26 to Sunday 28 in the wonderful city of Nice.

This Experiential Seminar integrates the Ancient Tibetan Healing Practices with modern Quantum Psychology to create a map of the Psyche and understand pathways to energy body rejuvenation and transformation.

Following the seminar, Dr. B. Raven Lee invites you to deepen the knowledge and experience with a 5 day tour of Caer Sidi, which is the Keltic, Cathars and Knights Templars sacred archeological Mandala, situated north of the cities of Nice and Cannes, in the South of France (Verdon).

To help participants to channel their inspiration and feeling Shamanic practices will be approached during this week, under a genuine guidance. This programme will also disclose and combine tested methods to study the roots of Shamanistic myths, symbols and practices. (More details provided on request)

Trigance Village near the Verdon

<![if !vml]><![endif]> Caer Sidi, Tentative Itinerary

Following the traces and symbols of the encrypted Grail Mythos, we will drive in
mini-bus and then trek to several megalithic artefacts, ruins or Templars chapels in the
Verdon area, where we will focus on practices and study of the Grail Quest
through Shamanic practices.

We will feel, sense, vizualize and discuss the energies found around the Chateau de
Valcros (Lady of the Lake) <+>, at its Celtic Fortress (Camelot) <+>, at the
Menhir of Robion (Merlin and Morgane-Le Fay), and at the Chateau Soleil <+>.

We will pray in the first Templars chapels of St. Thyrse <+>, Comps sur Artuby <+>,
as well as visit Trigance <+>, the Commanderie de St. Mayne <+>, Point Sublime, Moustiers, the Lac St- Croix, etc .

Nyima Dzong Gompa (Chateau Soleil) Verdon (C) OKc

Oct 18/19 – USA departure flights from USA to Paris, France, connecting flight to Nice

Oct 20/21 – Arrival flight to Nice NCE (flexible arrival & duration, depending on flights)

Oct 22 – City of Nice & Riviera sightseeing, Monte Carlo, Monaco, St- Jean, Beaulieu,

Oct 23 – First visit to Verdon Keltic Mandala going through Grasse and Draguignan,

Oct 24 – Super tour around the Cote d'Azur, and selected sites of Mary Magdalene,

Oct 25 - Continuation of the Black Madonna , Mary Magdalene and other Grail legend pilgrimages sites, such as : Aix en Provence, Ste Beaume, Ste Croix, St. Maximin,

Fri 26 – Sun 28 Oct – Tibetan Quantum Energotherapy Seminar, B. Raven Lee

Mon Oct 29 – Fri Nov 02 – Caer Sidi Retreat (please see hereunder)

(Sat Oct 03 – USA Group-1 Return Flights, flexible departure, depending on flights)

Nov 04-09 – Cathares and Templars Aude Pyrennees : 5 Days Tour (Option 21Days)

Nov 10 – End of Caer Sidi Tsa-rLung Tour (idem)

The Verdon Canyon from Soleil

<![if !vml]><![endif]> Caer Sidi (Abbalach) : 5 Days Retreat

Oct 29 - Day 1- Monday morning: Drive from the city of Nice Riviera to the "Hotel Bain", situated in Comps, which will be our basecamp centrally located in the Verdon Mandala and surrounding studied area. Introduction to the selected sacred sites and related practices, being chosen as per the specificities of both the sacred site itself, and the ongoing Quest experiential of the group members. The Verdon Mandala is a 25km wide area in itself and our first day will focus upon the practices and detailed visit in and around Comps (Conis), Trigance (Trigania) and further meetings at the Tibetan Monastery: Nyima Dzong, its Temple practices, and its Cairn and Dolmen.

Oct 30 – Day 2 -Tuesday: morning drive from Comps to Robion Valcros Keltic Solar Fortress (Droma, Camelot), energy scanning and embodiment praxis around local Celtic artifacts, ie: walls, ruins, graves, trees, Dolmens, Menhirs, etc..., then go down to the Valcros Castle, and further promenade down to the Bakery for tea. On the way see La Doux, Blanchefort, and possibly be back at Nyima Dzong Tibetan Monastery for evening rituals.

Oct 31 - Day 3 - Wednesday morning : Study of the literature on Templars and Hospitaliers chapels, village and fortress. Afternoon return to St- Anne, Robion Village, St. Thyrs Templar Chapel, St-Trophisme, then drive to Castellane (Salinas) old Roman/Keltic time Healing Waters.

Nov 01 – Day 4 –Thursday morning : drive from Comps towards Breis, Trigance Village, Point Sublime Verdon, St- Mayne Commanderie, Verdon Canyon, Pt Sublime, Lac St- Croix, Moustier St Marie, and possibly return to Ste Beaume, depending upon the length and depth of practices being chosen by participants. It may also be that the group or some individuals may want to remain in quiet surrounding sacred sites already visited, in order to approach praxis more indepth. This is fully flexible.

Nov 02 - Day 5 –Friday morning : Synthesis of the Caer Sidi Shamanic Healing and Divination Rituals plus Philosophical discussion. Afternoon : leave Comps for our Arrival in Nice late afternoon, free time. This last day depends upon the participants booked flights connections departure in Nice, per se.

Nov 03 – Departure Flights to USA (USA GROUP 14 Days Options) Nice Airport.

Chateau Soleil - Nyima Dzomg Gompa

<![if !vml]><![endif]> International Seminars Organization

B. Raven LEE (PhD) – Neuroscience Quantum EnergoPsychotherapy & Tsa-rLung - USA

William R LEON (PhD) – CAIRN Consortium Academic Exchange - CEO – KTM - Nepal

Prof. Mike Singleton – President UCL/POLS ANSO/LAAP – University Louvain - Belgium

Ani Sherab Sangmo – Tibetan Tsa-rlung & Choo Nyingmapa Retreat Supervision Practices – Tibet

Namgyal Rimpoche Tsa-rLung & Trul-Khor Yogas Practices Ningmapa Dudjom Lineage – Nepal

Dr. Amchi Tashe Pedon – Kunphen Tibetan Medicine Centers in Nepal and in Nyalam, Tibet

Dr. Marco PARET (PhD) – ISI-CNV: NLPIII, Hypnotherapy and Quantum Psychology – Fr/It

Emilio MASSONE (PhD) – Acupuncture Healing and Chinese Medicine Health Anthropology - France

Chateau Soleil - Nyima Dzong Stupa

<![if !vml]><![endif]> Inscription

Please contact Dr. B. Raven Lee (USA) at : drravenlee@juno.com

Website: www.integrativewisdompath.com

or William R LEON at

CAIRN Consortium : leon@sped.ucl.ac.be

Website : https://cairn-alliance.tripod.com/

Registration : minimum 60 days advance booking

East-side entry of the Verdon Canyon

Nice Promenade des Anglais

<![if !vml]><![endif]> Tour Registration (min. 60 days in advance)

Fees Per Person (Euros): Prices Options are With or Without Flights included !

- With Airfare:

- 14 Days : 4,100 Euros -

- 21 Days : 4, 700 Euros -

- Without Airfare:

- 14 Days : 3,400 Euros -

- 21 Days : 4,000 Euros -

- Deposit Registration : 500 Euros -

- Seminar fees are included in Prices -

Fees Include
- Full Room & Board in Hotel/Guesthouse (***) in twin rooms and full boarding during 14 or 21 days as per Option chosen (double occupancy / 3 meals day, single extra) - Single supplement: Euros 50 per each day occupancy - All Airfares International and Regional trains/bus in France
- All minivan transportation in/around the Verdon and Aude Keltic/Templars powerplaces, incl. sightseeing Nice/Riviera
- Price also includes the meetings, seminars and retreat,
and the introduction guidance to the Tsa-rLung Practices.

_Fees Do Not Include
- Fees for your European (Schengen) Visa
- Loss of or damage to Luggage/Personal Property.
- Travel and Medical Insurance expenses
- Loss of personal items, passports, etc…
- Any transportation or lodging costs being due after the client's 14 or 21days chosen option complete duration
- Other meals other than those provided in Agenda & Itinerary.

Seminar Fees of 250 Euros are included in Tour

Terms of References

Group Size
This Customized Field-study tours is organized for a group of minimum 7 persons (pax), or more at no extra cost in Verdon Canyon Gites/Hotel/GH (***). Nice Hotel (***).
Local transportation to/from airport & around the area is included, using upto 18 passenger mini-buses/cars; as well as local guides and seminar teachings as quoted above.

Discount
Discount conditions extended only to relevant cases being researchers, scholars, Dharma practitioners and continuing education courses and does not include approval on all of the tour costs arrangements, to be discussed on a case basis. However CAIRN Tours&Study are open to everyone!

Deposit and Registration
I. Price of Tour: Send deposit of Euros: 550/
The Euros: 500 deposit is to be made namely to R W Leon / CAIRN CEO at a Swift Code Bank Numbers or by Western Union Money Transfer at the address in Nepal, UK or EU, which will be provided to you at the time of your registration. In case of early deposit when RWL will still be in either Nepal, India or Tibet TAR China (-re: where foreign currency exchange are unattainable, as per local regulations), the allocation is to be made using WESTERN UNION MONEY TRANSFER simple modalities. Related receipt and registration documents will immediately be provided to you. Price is same whether transfer is made by check, Western Union, Swift Code or credit card.
Deposit & Payments Euros : 500 deposit secures your space.
1/2 of balance of payment due by 60 days before tour.
Remaining 1/2 of balance (full payment) due by 30 days before tour.
Total Euros: 50 late payment fee added if payments not made by due dates (Euros: 50 for payment not met).

Cancellation & Refund
Refund is minus Euros: 100 fee to be made if cancellation is emailed/postmarked by 30 days prior to departure. If cancellation postmarked between 30-15 days prior to departure Euros : 200 is non-refundable. If cancellation postmarked between 15-03 days prior to departure, Euros: 300 is non-refundable.

If cancellation emailed/postmarked under three (3) days from departure there is no refund.

Insurance
We strongly recommend travel and health insurance, which enables you to recover
all deposits if you need to cancel the trip due to illness or death. Please contact us
if you want details on this insurance. No partial refunds will be given under any
circumstances for unused hotel rooms, meals, or sightseeing trips.

Remark
The number of places is limited and is offered on a first come first serve basis.
Reservations must be made, complete with payment, by deadline given on registration file.
<![if !vml]>

<![endif]> - The Aude Cathares Option 2 (05 Days)
<![if !vml]>
<![endif]>
Being grounded on the genuine Shamanic
Traditions teaching and experience gathered
by the CAIRN Team out of their many years close
relationship with Shamanic lineage holders,
this programme will introduce the participants
to the main concepts and experiential of
Shamanic Traditional Healing and Divination
Practices and the intimate relations it has
with the Grail Quest and related Troubadours
Lore (Wolfram Von Eschenbach <+>).

Montsegur Castle
The Itinerary will introduce all participants to a fully documented survey, comprising the study of some outstanding megalithic Cathars, Templars and Celtic Powerplaces, which often were the foundations of their castles, monasteries, chapels, hermitages, hostels or commanderies in these regions :
This experiential tour&study will allow participants to be introduced and experience the Spiritual Heritage of the Cathars and Troubadours Grail Lore, and its intimate relations with the Celtic Shamanic Archetypes and Rituals.
This programme will allow all participants to link their meditation and catharsis with the striking natural beauty of the target-sites being visited.
Most of these powerplaces have kept their outstanding spiritual attraction, the strong cosmo-telluric energies and resurgence of some mythological entities being amongst the reasons for their current exceptional harmony and powers.


We will start our Quest from the enchanting
confines of the Hostellerie L' Evéche, in the
old Abbaye of Alet, an old Benedictin
monastery being now a restored guesthouse
nested along the river Aude , in the village
where Nostradamus once lived.

Reflecting upon the river Aude and its quiet
surroundings, we will prepare our meditation
in the ancient monasteries, ruins and castles,
as a first historical acquaintance with the
Cathars spiritual heritage and the remaining
traces of the Inquisition.

This journey will include guided visit of the
medieval cities of Foix and Carcassonne,
the Castles of Arques, Peyrepertuse,
Termes, Latour, Minerve and Quéribus,
as well as other renown archeological
and spiritual places in the region (Aude,
Ariège, Provence, Pyrennees) .

Evoquing the dramatic history of Simon
de Montfort 's Crusade against the Cathares,
we will discuss how in more recent times
the Montségur Pog had become the symbol
of a Solar Cult and the Montsalvat of the
Holy Grail Quest.

The fortresses of Montségur, Quéribus and
Peyrepertuse, surrounded by the magnificent
scenery of the Land of Cathars, remain living
testimonies of the beauty and spiritual
forces of Knowledge, Light and Love,
against those of dark violence and hatred.

Slowly climbing the steps leading to Montségur
Pog (refuge), we will pay Hommage to the
Parfaits and other Cathars who gave they
lives to preserve their tradition.


Hotel L' Eveche in Alet Abbaye


The Transepts at Alet Abbaye


The castle of Puilaurens

Montsegur Castle, showing its
reconstruction by the Duc de Levis
Mirepoix and the traditional builders
guild of the 13-14th century (solstices)

This beautiful and dramatic journey will lead
us also to the shrine of the Black Madonna
in Limoux. The early Celtic and Shamanic
rites for healing or divination powers will be
addressed at several healing streams
(sources and holy waters) and references
to the Celtic Mother Goddess will be
approached in places where the
Black Madona cult may still be found
(Limoux)

Following the path of the Troubadours, we
will evoke the symbolic joust and tournaments
which were celebrated in the romantic Puivert castle.
We will also examine the Knights Templars
traces at Bézu, Rennes-le-Chateau,
Blanchefort and surrounding areas.

Not far away from Couiza lies a little village
called Rennes-le-Chateau, which has
became renown in recent years for its
strange history and magical mysteries.

Occupied since the Neolithic ages , being
at the same time an ancient Gallic powerplace,
the capital of the Wisigoths tribe and Rhedae,
the city of Merovingian Kings, many
suggest that it may still hide today
the Arch of Alliance, somewhere in the
surrounding Razès.

The Tour Magdala build by Béranger Saunière
is said by several Tibetan Lamas (Nying-Mas
and Karguyd-Pas, 1985) to be one of the
local entry to the Celtic Annwn (the land
of ancestors), or in other names the
Tibetan / Mongolian: Shambala.


La Tour Magdala / Rennes-le-Chateau
The Order of the Hospitalliers de St. Jean de Jerusalem (Lavaldieu) and the Knights Templars,
both had several properties in the region, and the intricated role they both played during
two centuries of Roman Inquisition against the Cathars will be discussed .


Asmodee, Gardian of the Arch of Alliance

Another enigma being approached in this
study are the megalithic Cairns, Dolmens
and Menhirs standing around
Rennes-les-Bains, as described
in the book of the abbé Henri Boudet :
La Vraie Langue Celtique et le Cromlech
de Rennes-les-Bains ", as well as
in other areas being visited, such as the
Dolmen of Saint Michel de Grandmont,
Dolmen des Fados, the Pic de Bougarach,
le Fauteuil-du- Diable / Rennes-les-Bains
and its surrounding rocks and Cairns.
Visit of the hot springs (Roman Empire period)
in Rennes-les-Bains may be included.
From Couiza and Quillan, not far from Chateau Queribus, we will reach the ruins of the Bézu. From there, on the left we can see the Pique de Levaldieu, Rennes-le-Chateau and part of the natural Cromlech of Rennes-les-Bains.
The ruins of the Chateau du Bezu (actually those of the Chateau Sermon d'Albedun) lead to an ancient Celtic Altar, with a splendid view on the Pic de Bugarach, Pique de Lavaldieu and surrounding Cathars Land.
A Seminar held in Alet will focus on the history of the Cathars faith, the controversial relations between Cathars, Templars and the Inquisition Crusaders, as well as on the common roots it may have or have had with the Celtic, Arianist (Wisigoth) and Dualistic faiths (Bogomiles, Nestorians) during the early Christendom period.
We will discuss the common archetypal roots which may be found alive and practices in the
Indo-European Rig-Veda, Central European or Asian Shamanic Traditions, as they were
historically linked with the Cathars and Knights Templars own dramatic history .
This itinerary will be escorted with experienced speakers and guides, most being academically
entitled to provide a small group with phenomenological guidance and historical indepths.

Our references include a selected review of
the Cathars and Knights Templars history in
South of France, as well as a narration of
the first century exile to South of France
of Mary Magdalene, Joseph of Arimathea
(James) and other apostles of Christ,
who landed in Provence, before moving
to Septimania , Brittany (Armoric), then
to Glastonbury and Wales.

The myth of Mary Magdalene and of Joseph
of Arimathea (James) will be studied in places
such as Rennes-le-Chateau, La Val Dieu
(Center of Mary Magdalena cult), les
Saintes Maries de la Mer and Marseille
(the ritual space at the basilica of the
golden goddess, Notre Dame le la Garde
and the Crypt of the Abbey of St. Victor ).

Mary Magdalene Altarpiece
French legend recorded in the 4th Century CE says that Mary Magdalen (along with Lazarus and Martha) fled to the South of France (via Egypt) bearing "the earthen vessel that held the blood of Christ."
While legends of the Holy Grail took on a life of their own centuries later, merging with other legends, many believe that Mary Magdalen was herself the earthen vessel bearing Christ's child, the sacred bloodline of David. This is said to be indeed what many early Christians, including the Cathars, believed.
The Cult of the Magdalen, forced underground, is linked to the Cult of the Black Madonna, which
thrived in France and elsewhere in Europe. There has been much speculation as to the origin
of the Madonna's blackness.



Black Madonna (Limoux)

One link is to Sarah "The Black Queen,"

believed to be the child of Mary Magdalen,

brought out of Egypt.

The town of Les-Saintes-Maries-de-la-Mer,
in southern France, still celebrates her festival.

Other links are scriptural, such as to
the bride in the Song of Songs: "I am black,
but comely, O ye daughters of Jerusalem"
(Song of Solomon 1:5, B,C *), or to the
deposed Davidic princes of Jerusalem:
"now their appearance is blacker than
soot, they are unrecognized in the
streets" (Lamentations 4:8, B).
One of Mary Magdalen's most prominent shrines, at Chartres, centered around a statue named "Our Lady Under The Earth" . This also emphasizes her hidden aspect in the South of France, where the Cult of the Magdalen flourished until it was all but wiped out in the Albigensian campaigns.
St. Bernard of Clairvaux, Founder of the Templars, was born at Fontaines on the outskirts of Dijon, a place said to have had its own Black Virgin. He is said to have received three drops of milk taken from the breast of the Black Virgin of Chatillon while still a boy. He later went on to help the Templar order expand quickly and to preach the Second Crusade - from Vezelay, a centre of the cult of the Magdalene and a Black Virgin site.
In Southern Provençal tradition, the Black Madonna is associated with St. Sara, the patron saint of the Gypsies. She was said to be the black assistant who accompanied the three Marys to France when they fled from the Holy Land after the Crucifixion.
In local gypsy tradition, she is said to have been a gypsy (some say 'Egyptian') woman who helped them to land safely. A cult of St. Sara persists today at Les Saintes Maries de la Mer, one of the earliest Magdalene sites in France.
From Alet (Aude), we will move to Aix-en-Provence and Ste. Baume, where Mary lived
in retreat and died. We will pray in the Grotto of St. Mary Magdalena and after a picnic,
we will go to the village where the bones of St. Mary Magdalena are housed, and pray
in the Basilica of St. Maxim. That will allow us a stop somewhere on the beach
(Optional Stay in Nice).


Whom Serves the Grail ?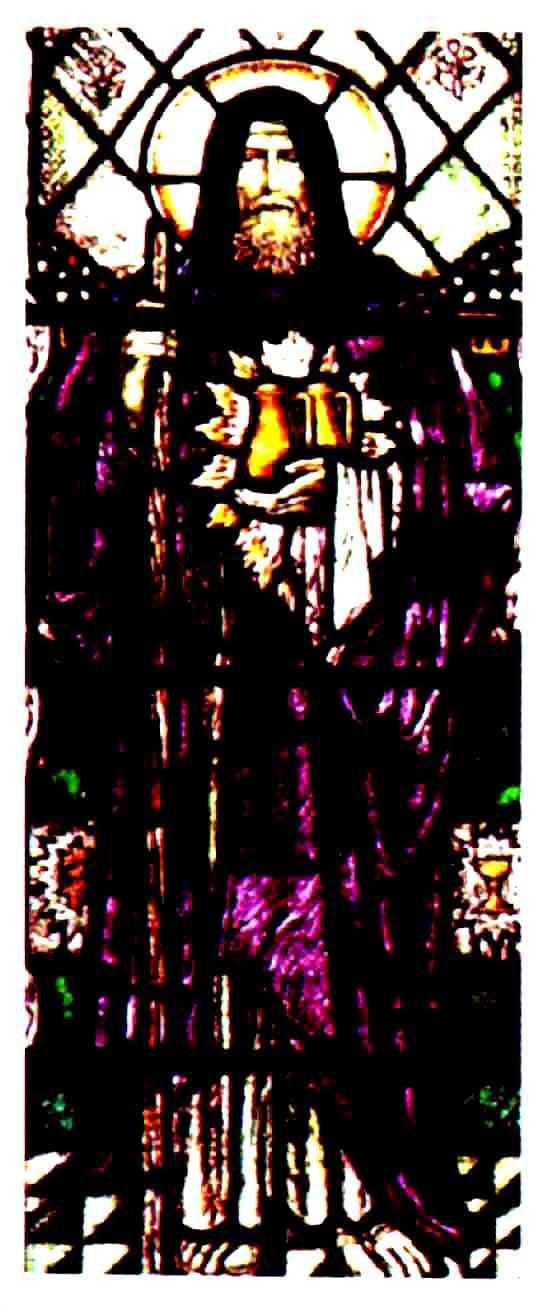 Joseph of Arimathea
Glastonbury Altar
" Al Caps Del Set Cent Ans Verdegeo El Laurel ! "
Hommage to the Grail Lore Lineage of Master Kyot and
Templar Troubadour Wolfram Von Eschenbach (XIIcentury)!
Whom Does the Grail Serve ?
Here is a humble essay, being a work long overdue on the path of the Grail Quest and on the reference that the question asked by the Chalice : "Who Serves the Grail?" is always a useful reminder that for the Fisher King (Aballach/Avallon) there is
more Karmic value for a practical minded approach to compassion through services, than to mere slogans...
CAIRN wants to emphasize combining awareness practice with other disciplines which may provide a dynamic experiential approach to the study and practices of Humanities, Traditional Healing and the Arts. It values accordingly the awakening of people's spiritual body, senses and perceptions through Tantras leading to a direct participation in real life's educational
and creative process.


Caer Sidi
Caer Sidi, The Fortress of the Fairies is mentioned in the Book of Taliesin (Lewis Spence).
That Caer Sidi (Camelot) was the Seat of rituals and initiations for Healing and Divination of an extraordinary vitality and importance to the Celtic psyche is no new thesis . But that it can be re-awakened today, simply through a comparative experiential study of Grail Lore and Himalayan Tantras is a testimony we want here to share, as a spiritual Quest with you!
The roots of myths and rituals go down to the subsoil of grave-cult and fear of death.
The word Sidhe (also spelled Sidi, Sidh, Sid, Sith ...) may be regarded as the standard term for "fairy" in the Gaelic tongue of Scotland , Wales and Ireland. While some reliable authorities further stress that Sithide or Sithde is the genitive of Sithd, a female fairy, Gaelic records Sidhe as also implying "hill" or "mound". Mounds and hills often are both graves and abodes of the elves.
Myth is a picture language, which has to be studied and embodied to be read.
And Mythology is also alive ...
The literature references include the narration of the first century (AD) exile of several apostles closed to Jesus the Christ, namely: St. Philip, Simon Zelotes, Mary Magdalene, Joseph of Arimathea (James) and others first to Septimania (South of France), then to Brittany and Wales.
Testimony itself followed by the Celtic legends of the Arthurian Grail Quest and Saints (St. David, St. Patrick) and the historical recollections of the successive migrations of the Arianist faith tribes (Wisigoths, Huns, Germans, Franks) , which led to the end of the Roman Empire (West) and to the consolidation of the (Long Hair Sorcerers) Merovingien kings in the previous Septimania , then named the Razes around Rennes le Chateau and Limoux (Aude) . Originating from the Black See (Central Europe) and Asian steppes, the Shaman practices of early Christendom was blended in an intricate mythological background, where Runnes , Animal Spirits , War Protectors , Fairies, Angels or Saints were part of a practical Gnostic Gospel . It is enlighting to find today how much these early Shamanic concepts and practices have remained comparable , at the symbolic archetypes and rituals level, to the current Hindu and Buddhist Tantras (ie: protectors, Dakinis, skulls, vases, Samsara or maya , reincarnation or karma, etc) . The early Christendom literature shows that these were beliefs being alive in the practices of Cathars and Knights Templars .
Sufficient literature material exist to complete the archeological and traditional traces which survived ( ie: Celtic scriptures, Dead See Scrolls, testimonies on the Cathars Consolamentum , Chinese Nestorian and Troubadors legacies ). This allows Grail Lore symbols and rituals to be compared with their early (Indo-European) Rig Veda's inspiration . Indeed, both the Celtic and Tibetan Vajrayana (Guru Rimpoche comes from mythical Orgyen land, West of Tibet) realms somehow emerge from the same Central Asian / Indo-European sources, with common archetypes buried deep in the collective unconsciousness of both the Celtic and Himalayan mystical approaches.
While there is no dispute concerning the historical and archeological facts that the early Celtic tribes migrated from Central Asia (since 4.000 B.C) , to be followed later (from 500 to 1.000 A.D.) by the successive migrations of Huns, Franks, Goths, Wisigoths and other Germanic tribes practicing Shamanic rites, it is less known that some of the current Shamanic traditions in the Himalayas today, namely those of Rais, Limbus and Tamangs ethnic descents, still speak about their own long past migration from a Central European region of which their present megalithic practices bear testimony .
Myths belong to the world of rituals and symbols, and one's perception of them is a matter of personal Quest, Embodiment and Awareness , as much as a path to be with genuine ethics .
We could consider , for example, as a valid hypothesis for experiential and literature studies, the few references in the Rig Veda of human interactions (or relations) with the Gandhavaras (Spirits of the Air and of the Waters) and Apsaras (water nymphs) , in charge of the magic Soma and were skilled in medicine and music. These entities bear resemblance with the roles played by Celtic Fairies (spirits) or the Grail Lore Ladies of the Lake (Waters, or del Acqs), who as Vivianne del Acqs and Morgane Le Fay , are the Guardians of the Isle of Avallon (Avallach), the invisible Gates to Caer Siddi (Annwn) and to the Grail's vase divination and
healing powers.
As in the Rig- Vedas and the Vajrayana, the earlier version of the Arthurian Quest and the later Troubadors Lore promote a sophisticated mythology , with archetypal roles perceived in distinct classes of inspirations, being those of Morgane, Perceval, Arthur, Morded, Merlin, Fairies , Maids or Celtic Nymphes, conduced in tales known as Elopments , Wooings or
Arthurian Quest.
The discovery of hidden truths, embedded in mythology is as much part of an initiation process, belonging to the realm of personal catharsis or drama , than to rationality.
Caer Sidi (Annwn) , the Celtic and Grail Lore Abode, which entry gives access to Healing and Divination Powers, requests that one be motivated , as Arthur, Galahad and Perceval , by a drive for relevant services and compassion for the community.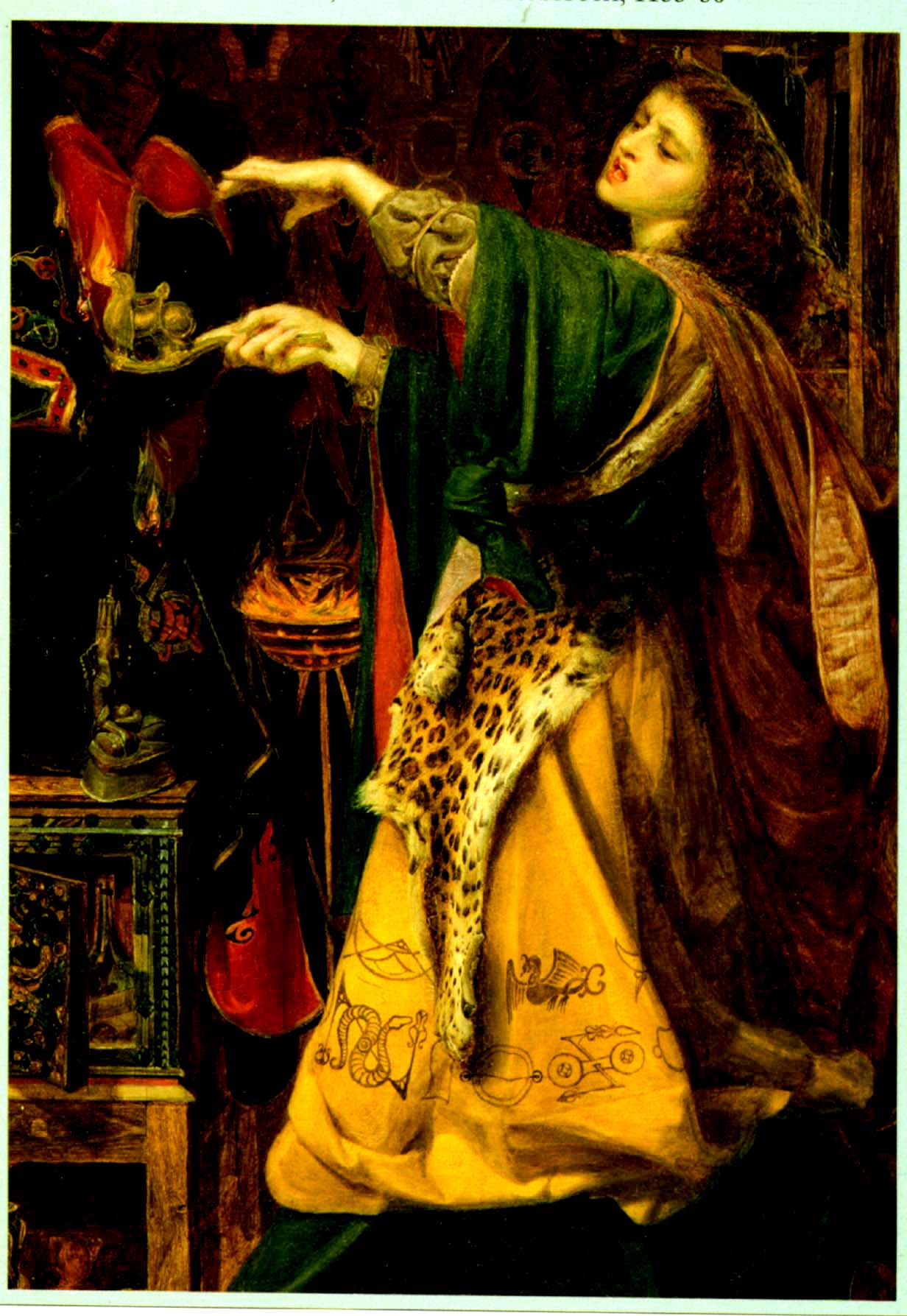 Morgane Le Fay,
Caer Sidi in Brittany (Abbalach Bries)
Faery Lore
The word Fairy or Faerie implies enchantment and is being used here as a synonym for Elf or Aelf. Another synomym is Fay , from the thirteen century Fadae (or Lars) being ancestral spirits.
The Gaelic words Sidhe and Sidi arose in the popular mind from its latin and medieval sources being both the words Fatum (fees or fades) for "Fate spoken or revealed "and the nymphic Fatuae (spiritual maidens of the forests and Elements) .Both the nymphic Fatuae and the classical Fates became accepted in the Roman world and turn later to become "Fada" in Provence and "Fee" in France. Reaching Britain at last with the Norman, it was introduced as "Fay". But the more ancient meaning of "Fairy" is also one linked with "illusion" , "enchantment" (Maya, Samsara), from the latin " fatare" . Gaelic dictionaries give Sidhe, Sithiche or Sithe as the corresponding for "Fairy".
The heritage of the Holy Grail is said to have come to Europe, in AD 44, when Mary Magdalene and Joseph of Arimathea decided to go into exile in the South of France (Gaul), under the protection of the rulers of the (Jewish) Kingdom of Septimania. Joseph (James) himself, later continued his journey to Brittany (Bretagne) and to Wales, founding the first communities of
early Celtic Christendom.
Both were descendants of the Davidic lineage of the Fisher Kings (as later King Arthur was), and inspired the Grail Lore and its spiritual iconography . Mary Magdalene 's own descendants led to the lineage of the "House of Acqs" (Aix or Aquae for Waters), in the South of France (Provence, Ariege, Aude), as well as later in Brittany (Breis) and Wales. The "House del Acqs" tradition held also the key to the symbolic "Lady of the Lake" (or Waters), who is the Guardian of the Gates of Caer Siddi (Annwn), where Excalibur and Arthur were brought back to lie (Sacred Isle of Avallon / Avallach). Historically, and in Brittany (Armoric) itself , the "House del Acqs" led genealogically to Morgain le Fay and Merlin, as quoted in the Arthurian Lore.
Excalibur, the Magical Sword, is like Camelot part of symbology of a dramatic progression using the archetypes and dream / visionary level of collective (un)-consciousness rooted to the Heritage of Humanity. Coming out of the stone, then back to the Lake (Lady of the Lake) of primordial waters, it is a dimension within our own. Camelot is alive today - as it ever was - for those who believe in the Quest as a spiritual real-life process.
As in real there is Black and White as phenomena, and a thin veil was said in the Grail Lore to separate the initiatory energy of Merlin, Arthur and Guinevere, from the more alchemic energy of Morgan-le-Fay, Mordred and others. It is still there today, there are interactions between the two Realms, but no Alliance as such!
Avallach (the Island of Glass) is an initiatory mandala where Caliburn is returned to the lake and remains free to be found for any of those who may hold it. At these times, in situ, the Celtic Grail initiatory energy which had been left sleeping for many centuries have been reawaken by the Tibetan Gompa and the Legend thus is anew.
Arthur "IS" the Land, The Dragons are Maya (the Illusion) and its laylines. Excalibur is the Attitude you hold upon the past, present and future, for which the power will be only if the Sword brings no harm to no-body... Camelot, the Island of Glass, is our Island of Dreams with its Fairies and Lore...
But the Tantric Lore is important, as the Knight who has a Song in His Heart picks a Rose on the Path and is asked to knock at Elfin's Door he needs for this to gain access to the Hidden Realms (Anwnn) simply by tuning to the rythm at the right time at the right place...
The Key (Dietrich) must be found under the Protection of Guardians (Veilleurs) which unlock the door to the Higher-Self. The Quest for the Grail, is the Quest for "I AM"!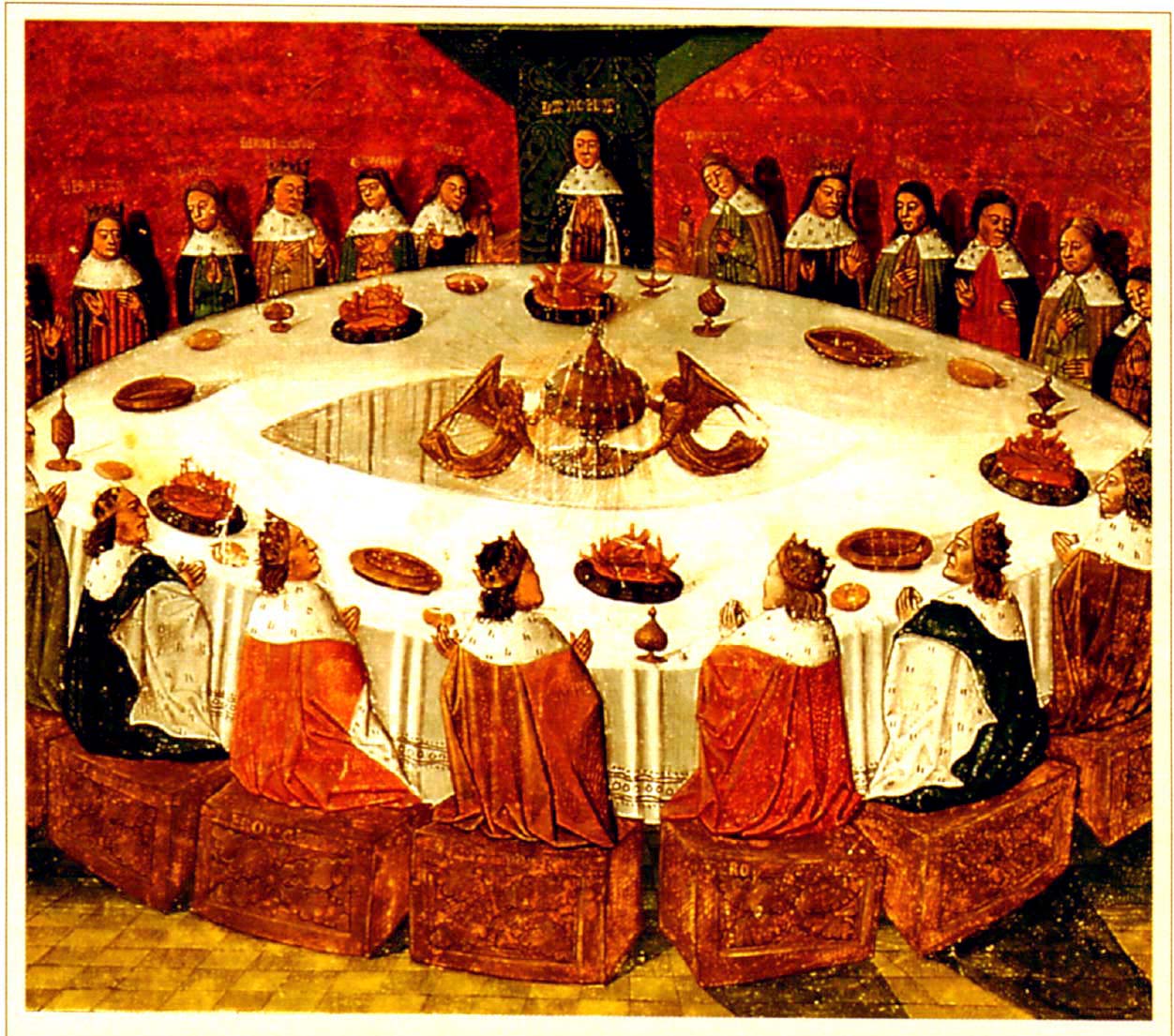 The Holy Grail appears to the Knights of the Round Table, with Sir Galahad in the Perilous Seat
( Legends of Arthurian Quest, painting of the 13nd century)
Keltic Dharma ?
Questions do abound nowadays on the recent biography of several Tibetan Dharma Center Gompa (monasteries) build on selected Celtic and Templars Powerplaces, in France and UK .
There was a time, not too long ago, when the ethics and spiritual development capacity from the imported Tibetan Dharma was defined only by its absolute trust, fascination and endeavour of Westerners toward the first generation of Tibetan masters who came to the West...
Today however, one can't help but notice a perception of weariness, discomfort and growing frustration in the attitudinal and structural changes which occur with the still successfully enfolding new generation of Dharma teachers and the experienced limits of the Tibetan self centred ethnic-focused geopolitical vision inherited from the Cold War propaganda period, the still questionable spiritual vocation pedagogy or the so-called Dharma business overall ethics.
Take something as fundamental as Lamas arriving in France to teach philosophy to French Dharma disciples and not knowing, per se, the minimum basis of either the French or European philosophical schools, the history of religion or the requirements for vocational or education counselling, not talking about more psychological ethical counselling skills, as they are sometimes obviously required.
The contemporary and somehow successful migration of Tibetan rituals into selected Celtic,
Cathares and Knights Templars powerplaces in UK and South of France, such as the strategic
sites which were bought in the early 1970-80s by some Tibetan Rimpoches in Haute Provence (Verdon) and Septimania (Aude/Ariège) in the South of France (ie: Kangyur Rimpoche and
Dudjom Rimpoche of the Nyingma-Pas bought in the early 70s the old Templar Chateau Soleil ,
now called Nyima-Dzong, situated near the Celtic Fortress of Valcros / Verdon , while the
Sharmapa tried in the begining 80s to buy some land around the Razès / Rennes le Chateau,
and in Scotland itself and more successfully it seems, Lama Yeshe of the Kargyud-Pas
lineage bought the old Celtic retreat of Holy Island), gave testimony that these sacred
abodes of the earlier Celtic Lore Saints and Fairies have proven to be useful resources
for the Tibetans' own rituals and retreats.
While, the biography of these Tibetan settlements have not been without their share of
questions, it has become undeniable that in some of them some spiritual awareness had
been reached....
All in all, while quite different results had been reached by the Tibetan Dharma in using
Celtic and Templars powerplaces, the question remains if it also could serve the purpose
of preservation and reawakening of the Celtic and Grail Heritage itself...
In short, if it worked one way, could it as well work the other way round?
And if not, why not ?
This essay is not intended to be the last word or the definitive presentation on a
rather evolving subject. Rather, as the title implies, it is intended to provide a basis
for some further reflections and synthesis towards an attempt in preserving or
re-awakening the Celtic Heritage.
Because actually the author is not that sure one may argue about DzogChen anyway!
In short, let us just propose the question if one can get to Rigpa by " One- Self "!
And if yes (in theory), then simply where, when, why, how?
Myths, as they have settled in history and popular tales are the purveyors of a wisdom
that was born with the race of Man. The content is metaphysics . The equation between
the Celtic Grail Lore (Healing and Divination practices), the Tibetan Tantric and the
Indo-European Rig-Vedas mythology may be as much approached from a comparative
experiential study of the archetypes and rituals, than discussed from the available
references existing in both the holy scriptures of early Christendom and those
of the Tibetan Vajrayana and Dharma.




Enquiries/Questions
All enquiry and correspondence regarding this organization may be sent to
Rene William Leon (PhD)/CAIRN(Nepal) at email : leon@sped.ucl.ac.be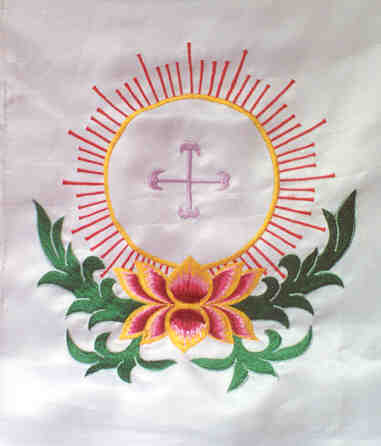 Article:
Shamanic Healing, Divination, and Energy Medicine
HEALING WITH THE EARTH
(c) John & Julie Switaj 2002
"
No matter what our backgrounds, at one time, all our ancestors at point
of view of the universe that is very different from the one we hold now.
Western science has divided reality into smaller and more fragmented
bits that can be described, and used to predict outcomes, but without
regard for the whole, or bigger balance. . On the contrary, in our ancestors'
consciousness, everything in this universe was alive and everything was
connected.. Theirs was what we now call a shamanic world view.
The teachers, healers and magicians - the shamans - of those early cultures
were particularly well tuned individuals who could perceive energy and magic
in individual parts of Creation - rocks, trees, animals, clouds, streams and fires.
By intentionally shifting their state of consciousness, shamans also attuned
themselves to certain geographic locations that seemed to hold powerful energies.
They used these energies to help heal individuals in body and spirit, provide
medicine and nourishment, and restore balance between individuals and
community, and community and the larger natural world.
This three day introductory workshop is intended to re-awaken and develop our
latent shamanic healing abilities. We will learn to intentionally shift our state of
consciousness and open our awareness to non-ordinary reality. We will establish
connection and develop relationships with helpers and teachers to facilitate personal
and communal health and healing. The seminar is also an opportunity to gather
further knowledge about current research into shamanic healing and the emerging
field of Energy Medicine, which has its ancestral roots in shamanic healing practices.

The seminar and experiential retreat could include the following areas:
I An overview of shamanism with emphasis on the shamanic journey.
II. Shamanic divination practices
III. Shamanism and healing
IV. Research into learning, practice and outcomes of shamanic healing practices
V. Energy medicine and Shamanic healing.

Participants will be introduced to the Shamanic World View and will learn and
begin to practice two of the most central shamanic techniques: journeying and divination.
Journeying will involve learning how to shift out of ordinary consciousness and enter
non-ordinary reality to establish relationships with helpers and teachers who will help
us on our path to health and healing. In the introduction to divination we will learn to
get answers to our specific questions by attuning ourselves to the messages of
spirits held within rocks, fire and trees.
The seminar will also include the presentation of current longitudinal research in the
application of Shamanic Journeying (Switaj; 1996, Geeza and Switaj, 2000).
There will also be time to share information and discuss the emerging field of
Energy Medicine an its roots in ancient shamanic healing practices.


REM:

Dr. Julianna Switaj has a background in biochemistry, Masters Degrees
in Educational and Developmental Psychology from McGill, and an EdD in
Counseling Psychology from University of Toronto.
She has twenty years experience as an educator, research practitioner in
psycho-neuroimmunology and psychological counselor. She has a profound
belief in the importance of integrating the wisdom of body, mind,
spirit and nature in achieving optimal health. Jiulianna received her
Doctoral Degree with her thesis on using Shamaniic journeying as a way
of problem solving, personal growth and health.
John Geeza took an undergraduate degree in Biology from the University
of Scrantom, a Master's in , Communications from Boston University and
a Master's in Counseling Psychology from the University of Toronto. .
He has worked as a psychological counselor for over ten years, and has
helped individuals and groups with issues of chronic pain, workplace
concerns and change. He had two decades experience in documentary film
and media production largely making scientific ideas accessible and
useful to people.
For over fifteen years Julianna and John have studied and used human
consciousness in health and healing. They have presented their research
on shamanic techniques at conferences and have taught shamanic
techniques to interested medical professionals at major hospitals in
Canada.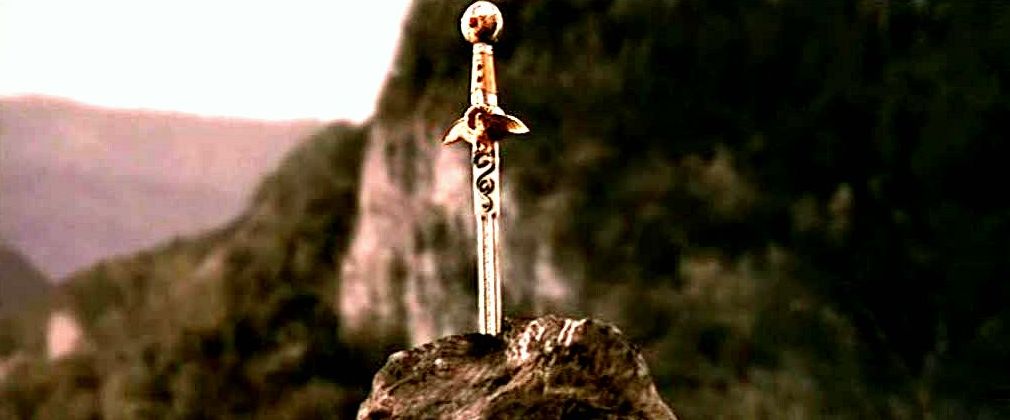 RWL